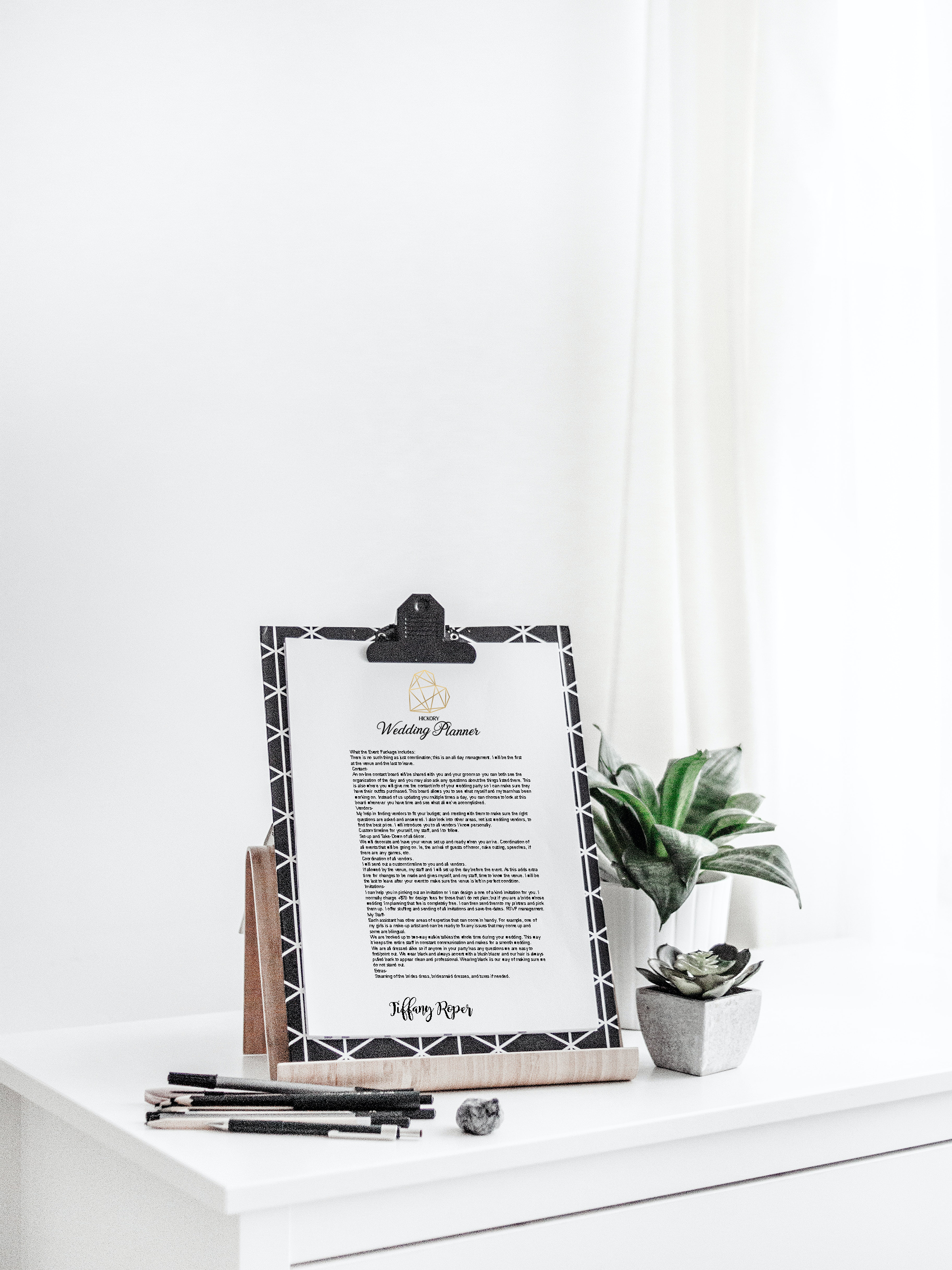 Some of What the Planning Package Includes
There is no such thing as just coordination; this is all-day management. I will be the first at the venue and the last to leave.
Custom timeline for myself, my team, and you to follow.
Check out the sections below to learn more about what we offer.
An online contact board will be shared with you and your groom so you can both see the organization of the day, and you may also ask any questions about the things listed there. This is also where you will give me the contact info of your wedding party to make sure they have their outfits purchased. This board allows you to see what my team and I have been working on. Instead of us updating you multiple times a day, you can choose to look at this board whenever you have time and see what we've accomplished.
My help to find vendors to fit your budget; and meeting with them to make sure the right questions are asked and answered. I also look into other areas, not just wedding vendors, to find the best price. Once the term "wedding" is tacked onto anything, the price always goes up. I will introduce you to all vendors I know personally.
We will decorate and have your venue set up and ready when you arrive. Coordination of all party members for the procession and recession. Coordination of all events at the wedding that will be going on. I.e., bouquet toss, garter toss, cutting of the cake, first dance, etc. Coordination of all vendors. I will send out a custom timeline to you and all vendors. If allowed by the venue, my staff and I will set up the day before the wedding. This adds extra time for changes to be made and gives me and my staff time to know the venue. I will be the last to leave after your wedding to ensure the venue is left in perfect condition.
I can help you pick out an invitation, or I can design one of a kind invitation for you. I usually charge +$70 for design fees for those that I do not plan, but if you are a bride whose wedding I'm planning, that fee is completely free. I can then send them to my printers and pick them up. I offer to stuff and mail all invitations and save the dates. RSVP management.
Each assistant has other areas of expertise that can come in handy. For example, one of my girls is a make-up artist and can be ready to fix any issues that may come up. We are hooked up to two-way walkie-talkies the whole time during your wedding. This way, it keeps the entire staff in constant communication and makes for a smooth wedding. We all dress alike, so if anyone in your party has any questions, we are easy to find/point out. We wear black and always accent with a blush blazer, and our hair is always pulled back to appear clean and professional. Wearing black is our way of making sure we do not stand out.
Love is composed of a single soul inhabiting two bodies.
- Aristotle